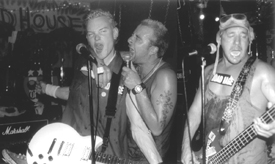 Back in '96, Sid Vicious' mom Anne Beverly tried stopping the Sex Pistols Reunion; when her legal attempts at keeping Johnny Rotten & crew in submission failed, she surfaced with a snot-nosed band of her own that played a scorching version of "Bodies" and other Pistols' classics. That band of pub-loving punks was called Road Rage.
That's Road Rage's original claim to fame - unfortunately, Ms. Beverly OD'ed shortly thereafter... now that mum is with Sid in Punk Rock Heaven, Road Rage take the ghost of Punk Rock past, shove it up and tear it out your bumhole. Their debut release NOTHIN' TO DECLARE is a relentless barrage of classic sing and drink-alongs, and the hardest rocking Punk to come out of England in 20 years. The name Road Rage comes from when Royston (bass) was cut off by another driver; he chased the driver eleven miles and eventually crashed his car... true Road Rage!
When they're not tilling the farm or boxing in the North of England, Road Rage play '77 style English Punk. They deliver fast-paced Punk with in-your-face cockney english vocals and sing-along mayhem choruses, staying away from political topics and delving instead into drinking ("Drying Out Day"), drugs ("D.D.P."), sexual identity ("What Gender?") andthe original Punk scene ("When We Were The Boys"). Says lead singer, "Mad Dog" Pete: "Some say we sound like connections of Rancid, Chaos UK, Steve Jones/Pistols' guitar sound, NOFX, etc. - 70's, 80's punk - but that's a load of bollocks. We sound like how we sound. Buy the album or single and make your own mind up." We think they sound like The Sex Pistols would've sounded had they kept playing music and Johnny Lydon didn't become a disco queen! The Pistols meet Rancid on Speed!
Being UK-based, Road Rage has had the opportunity to tour with legendary punk rockers G.B.H., UK Subs, English Dogs, The Dickies, Stiff Little Fingers and others. They came to America for the first time in 2000. Radical personally set up the Working For The Yankee Dollar Tour for Road Rage, booking them with the best Oi! punk bands up and down the east coast, to Texas and back.