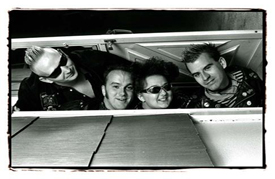 It all started back in 1990. Mike and Chad had been friends with each other since they were in high school. The two of them came up with the idea to start a band. Renee had posted an ad in a local paper saying that she was starting a band too. She already had a singer, but Mike still urged Chad to go and talk with her. Chad later found out that the singer Renee had no longer wanted to be in the band. So the same day the two met, Chad and Renee drove to talk to Mike. Mike was then in the band. Renee got a friend named Brendan to play bass for them. Brenden did not know how to play though, so Renee taught him. The four of them weren't good at thinking of names. They came up with the Blanks because their minds were blank. After the Blanks got a review in a magazine, another band notified them to tell them that the Blanks is already taken as a name. '77, which stood for 1977, the year most punk rock bands started, was added onto the name making Blanks '77. The line-up stayed the same until 1992 when Brendan left. He was replaced by Geoff, who left two months later to join A.F.I. Blanks 77 had four shows booked and no bassist. They found Tim from Broken Heroes and he joined. He was ready to play the shows after rehearsing once with the rest of the band and recorded their first album, KILLER BLANKS two weeks later. He stayed with them for the rest of their time as a band. Blanks 77 signed on with Nasty Vinyl and released their first full length album, KILLER BLANKS in Germany. The band then signed onto Radical Records and re-released KILLER BLANKS in 1996. This time four more tracks were added on. In 1997, Blanks 77 came out with their second album entitled TANKED AND POGOED. Chad left the band in late '97 and was replaced by Paul from the Unseen, who filled in for them for two tours.
1999 was the release of their newest album C.B.H. They also found another new drummer, Kid Blanks (formerly of Warzone and SFA). Throuout their carreer, Blanks 77 have appeared on tons of compilation cds, cover albums, and videos. Another thing on their list of accomplishments is touring Europe twice and the U.S. so many times that every bar tender knows who they are. Blanks 77 have shared the stage numerous times with bands like: The Misfits, Rancid, The Murdered, The Dwarves, The Business, Bad Brains, The Bouncing Souls, One Way System, Anti-Nowhere Leaugue, Anti-Heros, Dropkick Murphys, GBH, the Criminals, UK Subs, Total Chaos and tons of bands they were too drunk to remember. Blanks 77 are known for their crazy live shows coast to coast and all over the world. Any mohawked aficionado of punk knows who Blanks 77 is. Blanks 77 on tour was a crazy force that could only be stopped by: 1.Them being kicked out of every club in the U.S., 2.Their tour van breaking down, 3.Their livers giving out.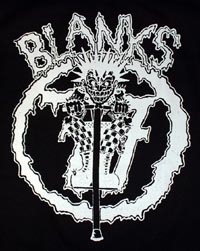 The Blanks have reunited with orignal drummer Chad and have played a numberof shows around the New York/New Jersey area throughout 2006 including B.B. King's with the reformed Germs, the Kitting Factory with Bouncing Souls, a George Tabb benefit at CBGB and the Nail in the Coffin fest in Bound Brook, NJ with a host of up and coming local Jersey teen punk outfits including the Bull Goose Loony, the Facialz and Dead End Saints just proving that Blanks '77 will always remain a part of the local underground scene.